OK! You have an android device and a question arises in your mind Is Android Really Secure than IOS? Know Everything in this article.
Earlier, it seemed to us that the security of Android is not so good, although it has more protection. But this thing was right till five years ago because Google did an excellent job within the last three to four years and ideally improved the security of Android. But the question comes, in what way is it improved? Where did they work? And what other smartphone makers have done for protection? We will talk about this in this article, so read the article from beginning to end.
Android Vs iOS Security
So first of all, you used to get to see android from the Google side, and earlier, a lot of problems used to come with an android that Google made Android, and companies would modify it according to their own and then releases its update. Due to this, the update was also seen very late, and there were many such phones in which you never got to see the update. However, the update frequency has been improved in the last few years, but an important thing would have been that of security.
In Apple devices, if you get to see any security bug or anything inside the iPhone, What would Apple do? They immediately come into action and update the software to fix the particular security loopholes and, as soon as possible, release an update inside all devices. It is effortless for Apple to do this because Apple makes the hardware, software and has full control of which software update goes on which device and at what time.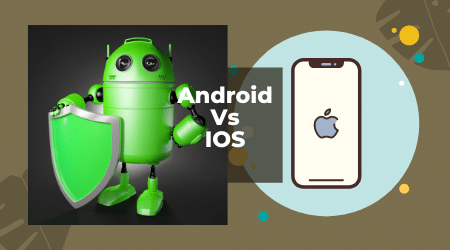 On the other hand, Google hasn't this power; Google can not release the software update on all its devices even after wanting. The biggest problem with Google is a lot of confusion for fragmentation of Android; there are many versions of Android, many phones are running in the market, and it is not their job to reach updates to every phone. Companies also can do this work and what Google can do is a mandate in the backend, can do some extra things so that those companies push updates a little bit sooner.
But still, in the case of Android, the updates do not come so quickly, and hence the initial loophole security issue was seen quite a lot inside it. Even you can see that people used to install APK earlier, then many viruses used to come in local phones, etc. To deal with this, Google has developed many things. Let us understand one by one.
Google Play Service
The first thing Google was developed is Google's Play Services. Right now, if we talk about Google Play Services, then till the Android 5.1 lollipop that came, its support is seen. Its special thing is that you will get to see Google Play service inside every Android phone found inside the market except those phones seen in China because Google is banned in China. There is no role for Play Services there, and the benefit of Google Play service is that Google provides those services which are also needed to run a phone and many apps also use it. It Means Play Services behaves like an app, but it is a system app, and all other apps that install inside your phone will take permission from Google itself and use its services.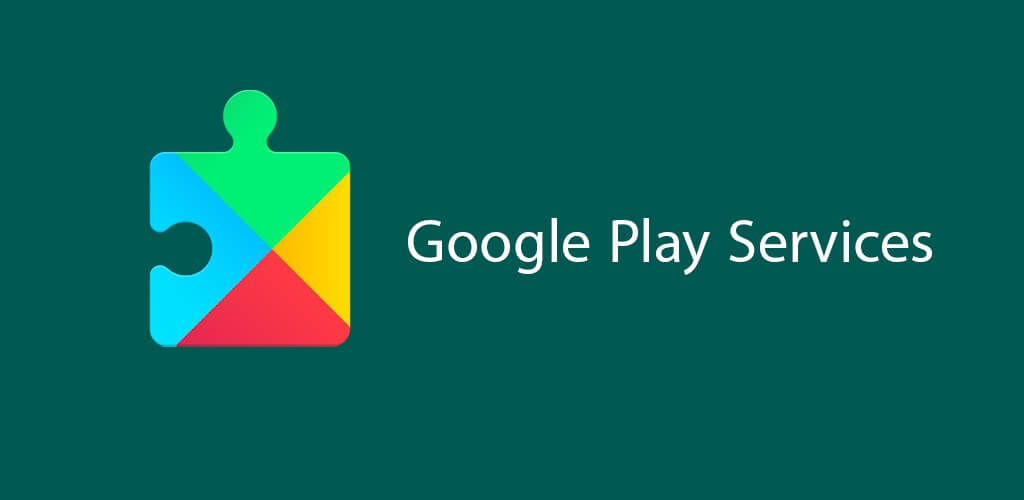 For example, if any location app needs access to Google Maps, then it will go through Google Play Services. You people must have seen about Google's login or sign-in feature; what happens to it is that it also works using Google Play Services. Basically, Every API level work is done through Play Services, and using it; Google wants to create an extra layer of protection so that Google comes somewhere between the app and user's data. He implemented this thing very well and always keeps updating it from his end through play store updates and keeps making this thing better than before. So this is the one thing that they took advantage of.
Google Play Protect
After this comes to the turn of Google Play Protect, which is part of the Google Play service where what's done is that suppose you have installed an app inside your phone, but if any malicious code inside it behaves like a virus. If so, Google Play Protect will give you a warning immediately. In some cases, it can even delete this app from your mobile, and it can also remove its access if it becomes a more dangerous app. The reason behind this is that they have made a feature of Google's Playstore that we called Google Play Protect so that they will be able to scan all the applications inside your device. Once all the applications if they scan well, then after that, they will be able to tell you that exactly which app is harmful or not on your device.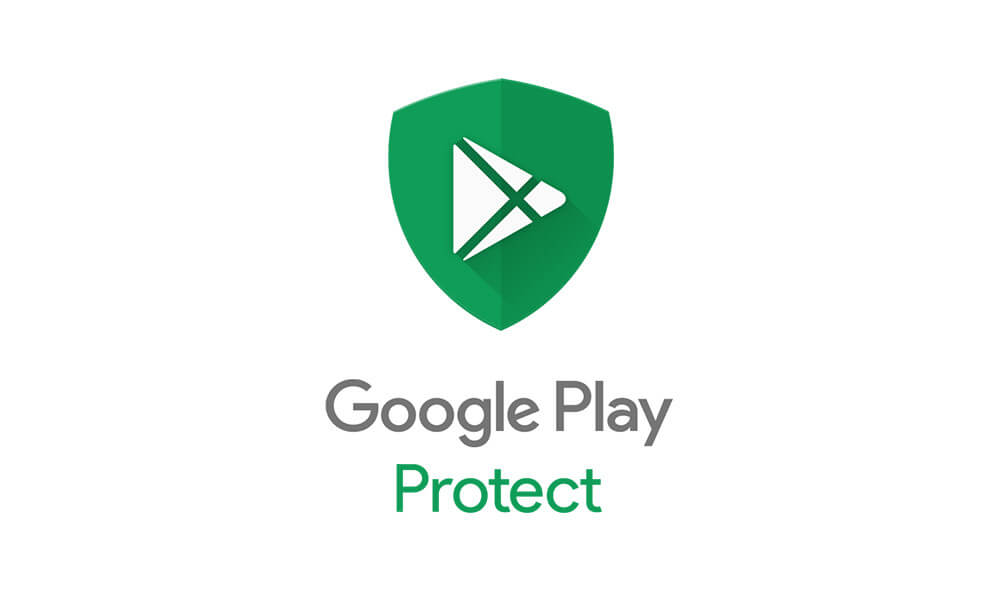 Moreover, If any app is removed from the google play store and you download it, it also shows a warning that we released this app from the google play store for this reason and don't download it. He did this very right thing, i.e., implemented built-in antivirus inside Play Store, which is called Google Play Protect.
The benefits of this thing are excellent; if someone by mistake installs any APK, then at least he gets a warning, or else he comes to know that there may be a problem with it. It has done quite a good job here because of Google Play Protect; what happened to it that Google has enabled an additional layer of antivirus due to its Playstore, and it has happened that some users have as many apps inside their phone. So now, They can scan and tell you in a good way which app is harmful or not.
Android Updates
Talking with this, Google has also done an excellent job with Android updates in the last few years. As we talk in today's time, Google did Mandatory. If any phone is launched, then it will have to give security patches for two years. The basic reason for providing ​​two years is that people upgrade within two years. It does not mean that every month, every three to four months, or after six months, you get to see a big update where the bugs and security issues that would have been found would have been fixed in these updates; that is an important thing.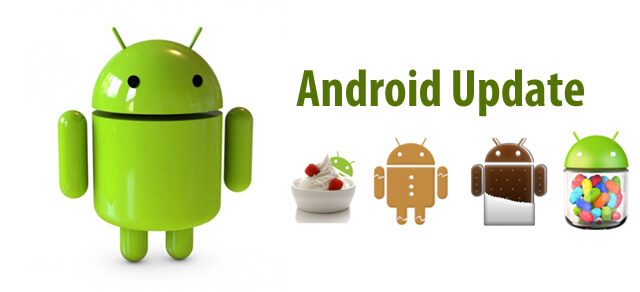 Along with this, there are some companies that are working very well in the matter of updates going one extra level and above regarding the security of Android. Like Samsung, in today's time, Samsung gives three years of software updates inside its phone and is offering four years of security patches and not only in its flagship phone, it is giving it in many of its phones. This trend has gradually come that the upper mid-range category provides two years of software updates and three years of security patches updates.
In general, I have seen this in phones above 20k and less in phones less than 20k; at least, we have seen a software update inside that device. But still, it seems that if you continue to grow in this direction, then even in the cheap phones, you will get to see the support update in a good way, and Google has also designed Android in this way to improve the software update. So that it becomes more and more modular and updates can be provided inside it as soon as possible.
Google's Project Treble
Here is an example of Google's Project Treble, Google's own project; Treble was made with this thinking so that the updates that were made as soon as possible could be allotted. But the feature of Project Treble was only seen in expensive or flagship phones, and its benefit is that the base layer of android inside Project Treble remains the same; Only the android below has to be changed. So if you have a phone with Project Treble, then by flashing the generic system image inside it, you can enjoy the latest android version.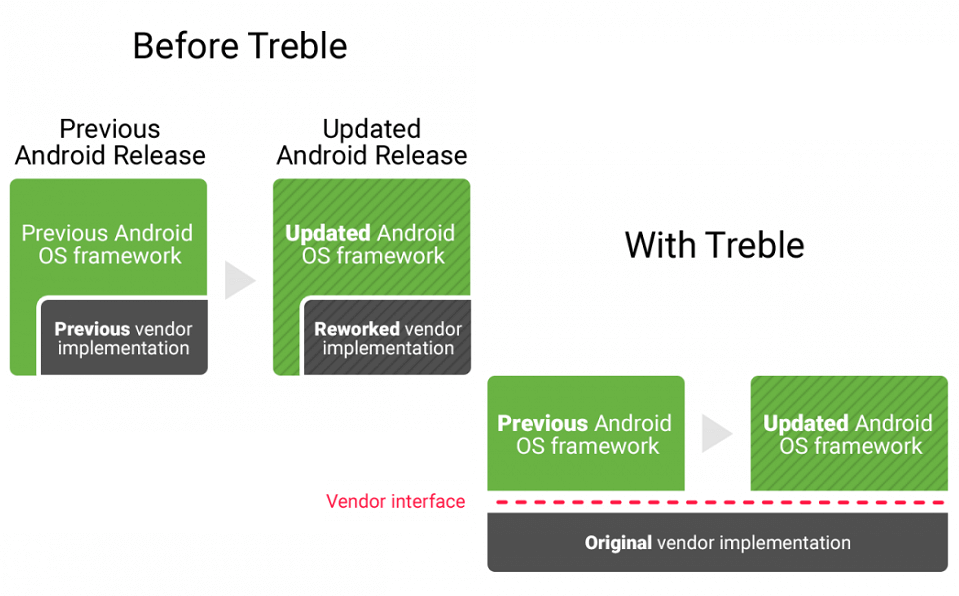 But yes, there you get to see bugs, and the biggest benefit with the phones with Project Treble is that you are getting to see the updates quickly in the phones that came with Project Treble in the coming time compared to other phones. Moreover, If you do not have phones with Project Treble, you will get late updates, and phones with Project Treble get early updates. However, This feature is only for some expensive phones right now.
What has Google done for Android in recent years?
Android's Project Mainline
Google introduced its own project mainline in Android 11 last year, under which they can update different components of Android using the update of Google Play Store. A simple example is that suppose Qualcomm released a new driver which is fixing any GPU problem; then you will get to see its update from Google Playstore. Another example, suppose there was a bug in the security loophole inside the WiFi, then it can be fixed directly with the updates of Playstore; you will not need to roll out the proper Android Update.
Google did a good job, and now slowly new features are coming, which you will see on all the phones. Along with this, one thing was also seen: in the coming time, i.e., with Android 12, he made the project mainline much better. Now the runtime of Android means that the apps run inside, that is, the byte code of java which is its binary file when it runs; it is called ART. So overall, it remains that the ART, which is the Android runtime, can also be updated through Google Playstore. So that if he is running such an app inside the background or if you open any app, then as soon as you open the app, it will be known whether there is any problem inside that app or not and can update that thing constantly.
Security Like Knox
In the last few years, Google has done some such things that you do not need to rely on mobile phone companies for security. Of course, Google can provide you with the best security from your end, but many companies offer additional protection inside their phones despite this. Here you people know that Samsung's Knox is one of the best examples of security. It protects user data, and if any tempting or hacking attempt is made with the phone, then all your data will be deleted entirely; it cannot be recovered again.
This is an excellent method of hardware-software even the US government has also approved as people from the US government uses only iPhone or Samsung's Knox security phones. Similarly, Motorola had invented a technology called think shield, inside which it was said that it is a mix of both hardware software and inside it, you get an additional layer of security so that you do not have to protect the user and the data user. Instead, a little extra protection can be given. Similarly, if you get to see the Titan M chip inside Google Pixel, then it also gives you hardware-level security.
Extra Security In Chips
Along with this, we saw that companies like Qualcomm also gradually started implementing hardware-level security inside their chips as well. MediaTek also did this work, Qualcomm also worked here, and its benefits are that you get an additional layer of security. But right now, the thing is that the features of some advanced level are available in slightly expensive SOC; you are still not getting to see something inside the phones that come with a cheap budget. It may come everywhere in the future, but the new SOC is coming to see this thing inside them.
Security Features In Android Skin
Now talking about Android Skin, many companies have also made some changes in their application's UI, such as banking applications. UPI Apps is also being used in today's time, and it is necessary to protect so that any other app can't gain unauthorized access. Along with this, many apps can be kept in isolation; small things of this type are done in today's time. The mobile phone company is slowly improving and trying to put a little extra layer inside its phone so that the user data can be further protected.
Conclusion
So it means to say that it has just arrived, but the security of the iPhone level has not come. But that direction is gradually increasing, and it feels that we will be able to see a better level of security here in the coming time because a lot of good work has been done in the security of Android within the last four to five years much as before. So if you don't get to see more secure, then now you get to see more secure than that.
Even the series of android updates that were there till five years ago has also become much better. Security patches have also started coming soon, and things are improving slowly with the updates of the Android version. But still, a perfect level has not been reached yet. So it will be a matter to be seen how long the security of android can reach its perfect level in the future.